...Everything you want.
What is
Union Eight
?
Maybe it's best to start with what it's not.
1. It's not a train station. Kinda sounds like it, right? Nope. We think you should get on board with Union Eight, but we're not paying for gas; it's too darn expensive right now. Ask again in a year, and we'll see what we can do for you.
2. It's not a work union. Sure, we work hard for you, but last I checked you weren't offering health insurance. What's that about?
3. We're not a dance club. Someone told me that
Union Eight
sounded like the name of a super cool place to hang out. While we think we're awesome (and hope you do too), and we even like to take frequent boogie breaks, I'm afraid this isn't it either. So please get off my desk with the go-go boots. You're leaving marks.
So now we know what
Union Eight
is not. So what the heck is it? I'll tell you as long as you
swear
not to tell millions of friends or send us tons of business. It's a big secret. Really.
*whispers*
Ok, you've twisted my arm. That really hurts, by the way. Didn't anyone tell you that those arm burns are really painful?
*clears throat*
Union Eight
is the absolute
best
source for fun and cool gifts. You can find super sassy baby onesie bodysuits and t-shirts like this one: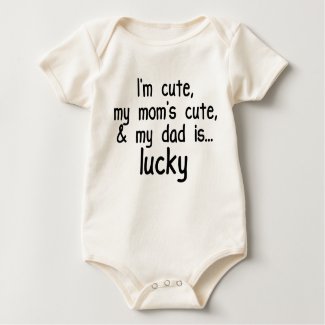 or find neat gifts for grandparents, cool customized shoes, music t-shirts, funny tees, and so much more. All developed by a group of friends who happen to be business partners.
Welcome to the world of
Union Eight
! You'll like it here, I promise. We'll even bake you cookies. Or bring you a veggie platter if you're on a diet. It's up to you. Just show up, you'll be glad you did.